Small Batch Handcrafted Kettlecorn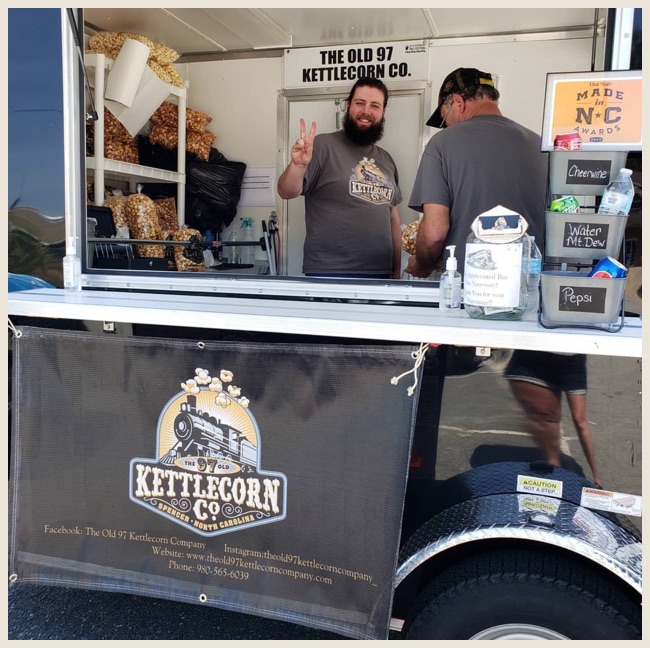 At The Old 97 Kettlecorn Co. we pride ourselves on making our kettlecorn with the highest quality ingredients and the perfect balance of salty and sweet.
Our gourmet kettlecorn is always made fresh with nut-free, gluten-free, and dairy-free ingredients, making our incredible popcorn available to those with certain dietary restrictions. We offer flavors that are fun and pay tribute to our Southern roots. There are options for those who like to keep it simple. Or, if you're a little on the wild side, we have an expanding selection of bold flavors such as Cheerwine Glazed, Sweetheat, and Sweet BBQ. So open a bag of Old 97 Kettlecorn and enjoy your favorite flavor while sitting on the porch or watching the big game.

A craveable combination of salty and sweet, kettlecorn is a variety of popcorn made with salt, oil, and a sweetener like sugar, molasses, or honey. It is believed that Dutch settlers in Pennsylvania introduced kettlecorn to the American colonies in the 1700's. It was a treat sold at fairs or handed out at other festive occasions. However, popped corn and the addition of spices and can be traced back far earlier to Native Americans. 
Kettlecorn was traditionally popped in big iron kettles, however, modern kettlecorn is commonly cooked in stainless steel or copper kettles because of their lighter weight. The corn, oil, sugar, and salt are all cooked together in the kettle. This is what gives kettle corn the unique sweet crust on the popcorn.